Study in Spain 
ABOUT SPAIN 
Land of bull fighting arenas and football stadiums, Spain is one of the most important countries of Europe. This land of bull fighter and footballer has a very rich history.  The history of the kingdom of Spain is 35000 years old. It is said that human-settled in this ancient land 35000 years ago. Its looks true as a discovery of cave paintings in Altamira also proved this theory. Archaeologists also believe that these paintings are thousands of years old.
The history of Spain is full of struggle against European powers. Roman conquered this land in 200 B.C and ruled over Spain for 600 years. Roman gave infrastructure to this land and agriculture of Spain developed in the Roman era. Roman didn't work on the development of local citizen of Spain, they gathered the treasures of this country like gold, wine, wool, olive and olive oil and exported to their lands. In 409 A.D Roman Empire started to decline and Spanish started to struggle for their freedom.
After Roman era Spain was again conquered by Moorish Muslims in 8th century.  These were north African Muslims, they took their culture and traditions in Spain and worked on the development of cities and people of Spain and gave them complete system to live a good life. They introduced Islamic law and justice which gave all the rights on equality basis to Spanish. In Muslim era cities of Spain gained lots of development and Cordoba (Qartaba) became one of the most developed, richest and stylish cities of Europe. Spain was called Hispania in Muslim era.
Christianity came back in The Reconquista period. Lots of wars were fought in this land but development continued. In 1200, universities established in Palencia and Salamanca to educate Spanish nation. Time passed and the development process of Spain continued and in 17th century it became big power of Europe. And most parts of Europe and America became its colonies. The Spanish supreme era continued till 18th century. In 1803 napoleon wars started and Spain also took its influence and Spain started to ruin and destroyed. In 20th century Spain civil wars started, the result was that war over 500000 people died and infrastructure destroyed. At that time General Francisco Franco taken over the government of Spain and started to rebuild the nation. Under the dictatorship of General Francisco Franco Spain started to develop rapidly. The economic growth of Spain surprised the world. After the death of General Francisco Franco Juan Carlos became the king of Spain declared himself head of State.  Now Prime Minister runs the government with the help of parliament.
CLIMATE AND TEMPERATURE OF SPAIN 
Spain is big country, for international student who want study in Spain so it has three climate zones. Every climate zone has pleasant weather and temperature. Summers in Spain normally dry and hot, but not too hot. Winter in Spain is not too cold like other countries of Europe. You can enjoy rainy winter in Spain. Cold of Spain is also bearable.  An average temperature of Barcelona in summer can be 24 C and in winter 10 C which is nice.
SOME FACTS ABOUT SPAIN FOR INTERNATIONAL STUDENTS 
The beautiful country Spain is well populated country. Its population was 46.56 million in 2016. Its total area is 505,990 square km. it is located in southwestern Europe. Madrid is its capital which is very advance and modern city.  Madrid, Barcelona, Valencia, Seville, Bilbao are its famous cities. Spanish is its official language which is widely spoken almost in whole country. Spain is well known for its bull fighting arenas and world famous football league.  There are lots of tourists' resorts in Spain. Lots of European, American, Asian and African tourists go to Spain to enjoy its sunny beaches and bull fighting competition. Tomato festival named La Tomatina held in the Valencia town of Buñol every year in August. Lots of people go to Spain from all over the world to enjoy this unique festival.
Top universities in Spain for international Students
EDUCATION SYSTEM OF SPAIN 
The Study in Spain totally based on quality education. The education system in Spain is regulated by the ministry of education of Spain. The Spanish education system meets all the quality measures of European education systems. The motto of Spanish education system is to provide quality education with a modern style of teaching.  The study in  Spain follows European Credit Transfer and Accumulation System (ECTS). Which makes easy for European students to transfer their credits from one university to another university.
There are lots of higher education institutions are offering various study programs in different study fields. Students from all over the world are taking education in the prestigious universities of Spain. There are 76 universities in Spain. 24 universities are private and others are public universities.  Almost all the higher education institutions offer students bachelor's degree programs, master's degree programs and doctoral level degree programs. Study in Spain for international students is good idea. Higher education institutions of Spain welcome the international students and provide lots of facilities to them. Here we discuss the different study programs study in Spain.
BACHELOR'S DEGREE PROGRAMS 
The bachelor's degree program is called 'grado' in Spain. Almost all the public and private higher education institutions offer bachelor's degree programs in various study fields to local and international students including Arts & Humanities, Sciences, Business Law, Engineering, Social Law, literature, commerce, finance, engineering, medicine, dentistry etc. Bachelor's degree requires completing 240 European Credit Transfer and Accumulation System (ECTS). One ECTS is equal to 25 hours of study work. Students can complete minimum 60 ECTS in a year. If a student wants to speed up his degree then he can complete 90 ECTS in a year by choosing additional course.
ADMISSION IN BACHELOR'S DEGREE PROGRAM 
Study in Spain have different admission requirements for different study programs. These admission requirements vary from institute to institute and course to course. Dmi Study Abroad is giving you some of the general admission requirements:
secondary education finishing degree / secondary school leaving certificate/intermediate
pass entry/admission test (some universities required entry test)
All transcripts issued by previous education institutions.
English language proficiency certificate like TOEFL (Test of English as a Foreign Language) and IELTS (International English Language Testing System) etc.
Application Form (correctly filled by candidate)
Grade in secondary education should be equal or above university's merit
Above admission requirements are general requirements collected by DMI StudyAbroad from different universities. Students are suggested to check the official website of the university to know the exact admission requirements and the deadline for submission of application.
ADMISSION IN MASTER'S DEGREE PROGRAM
Almost all the higher education institutes of Spain offer the master's degree programs in different study fields. Here are Study in spain offer some study fields in which master's programs are offered Journalism/Reporting, Advanced English, Economics, Advertising, Archaeology, Art History Advanced, Aerospace Science, Human Language, Accounting, Language Processing, Family Intervention Master's, Microbiology, Chemistry, International MBA, Biotechnology, Business Law, Neurosciences, Ecology, Gastronomy, Anesthesia, Engineering, Pain Treatment and Business marketing etc. Students can take admission in master's degree program anytime in their life after completing graduation. Master's students need to complete 60 to 120 European Credit Transfer and Accumulation System (ECTS) in two years.
ADMISSION IN MASTER'S DEGREE STUDY IN SPAIN REQUIREMENTS  
Study in Spain have different admission requirements for different study programs. These admission requirements are vary from institute to institute and course to course. DMI Study Abroad is giving you some of general admission requirements:
Bachelor's Degree with required CGPA by university ( degree should be equal to bachelor's degree (grado) of Spain) (16 year education from Pakistan)
Application Form (correctly filled by candidate)
English language proficiency certificate like TOEFL (Test of English as a Foreign Language) and IELTS (International English Language Testing System) etc.
pass entry / admission test (not all but some universities required entry test)
Above admission requirements are general requirements collected by DMI StudyAbroad from different universities. Students are advised to check the official website of university to get the exact admission requirements and deadline for submission of application.
ADMISSION IN DOCTORAL DEGREE PROGRAM IN HIGHER EDUCATION INSTITUTIONS OF SPAIN FOR STUDY IN SPAIN
Some higher education institution offering doctoral degree program (Ph.D.) to students in different study fields. The doctoral degree consists of two parts in universities of Spain. The first part consists of 60 ECTS to be completed in the classroom and the second part is based on research in a relevant field. Students are allowed to complete 60 ECTS in a class room within three years. Therefore, part-time student can complete classroom ECTS in maximum five years. Master's degree in relevant field with good CGPA is required to get admission in Ph.D. in higher education institutions of Spain.
STUDY IN ENGLISH LANGUAGE IN SPAIN
The study in Spain in the English language is possible but here is few study courses are offered in the English language to foreign students. Almost all universities offer their study programs in the Spanish language. If your desired study course is not available in the English language then you should learn the Spanish language first. After proving your efficiency in Spanish you will be given admission in your desired study program. However,Study in Spain are few universities offer some of their study programs in English.
The Global Business School Barcelona offers different study program in Spain few subjects in the English language. It is a private university and there are lots of international students are taking education in many courses. You can find another English speaking university in South Spain. The Marbella University of Malaga also offers different study programs in many study fields. You can find lots of international students there too.
To get admission in any course in English language, students are required to present language proficiency certificate. Normally TOEFL (Test of English as a Foreign Language) and IELTS (International English Language Testing System) are accepted as English language proficiency certificate.
TUITION FEES OF STUDY IN SPAIN FOR INTERNATIONAL STUDNETS 
The public universities of Spain are very affordable for students. These public funded universities are taking very economical fees. Some study programs are charged annual fees and some are charged fees per credit hour. The fees of Study in Spain vary from university to university and course to course. But an average fee for bachelor's degree program can be charged from 680 Euro to 1280 Euro per year.
Fee of private universities is bit high than public universities. Students are charged for bachelor's degree program 5500 Euro to 18000 Euro per year.
For master's degree and doctoral degree programs students can be charged 22 Euro to 36 Euro for one ECTS by higher education institutes of Spain.
SCHOLARSHIPS AND OTHER FUNDING OPTIONS STUDY IN SPAIN
The government of Spain is offering some scholarships for international students. These scholarships are given for selected courses. These are very few scholarships in Spain for specific countries. DMI StudyAbroad advises the students to check the university's official website to get exact information about their chances for scholarships. We bring the scholarships for Pakistani students in Spain info very soon.
If you don't find your chance for scholarship then you don't need to worry. DMI StudyAbroad has another solution for your financial needs. You have the option of a loan in Spain. Students can take a loan from different lenders for their study in Spain. These loans are given to pay tuition fees and some other education expenses. Students need to repay these loans with interest after completion of the degree.
If you don't like loan option then you can avail study grant in Spain. These study grants are given to needy students by different organizations. Students do not need to repay these grants.
COST OF LIVING IN SPAIN DOT INTERNATIONAL STUDENTS WHO WANT STUDY IN SPAIN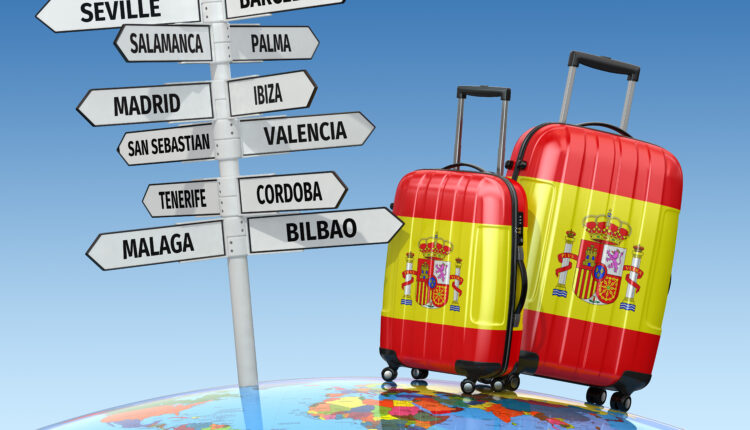 Spain is an ideal country to live in. The prices and rents of accommodation have increased in all over the world, so that in Spain. But other basic needs of life are very economical. Barcelona and Madrid are big cities and lifestyle of big cities has its extra requirements. Cost of living in big cities is always more than small cities. If you are in Barcelona or Madrid then you would have to spend almost 500 Euro to 1300 Euro per month. But if you are living in cities like Valencia, Seville or Cadiz then you may need 300 Euro to 850 Euro per month. These lowest estimates calculated for living in sharing and maximum amount for the students who want to live alone in a dormitory or in a flat. This money can be enough for food, traveling, books, stationery, outing, clothing, self-maintenance, health etc.  If you can control your unnecessary expenses then you can save some money from this amount. Because the cost of living depends on your living style. PakStudyAbroad.com suggests you always that spend less on living and more on the study because the study is your basic job.
SPAIN STUDY VISA REQUIREMENTS 
Pakistani / non-EU students are required visa to enter in Spain. It is advised to students to apply for visa after getting admission confirmation letter from university of Spain. Embassy of Spain will take some time to process you visa application. So apply for visa as early as possible to avoid any delay. Visa requirements can be different for different students according to their course and duration of visa. DMI StudyAbroad is giving you some general visa requirements for Spain.
Admission confirmation letter from higher education institution of Spain.
Application Form (correctly and completely filled by candidate).
Valid passport + photocopies of passport.
Recent photographs.
Bank Statement (with sufficient fund to cover your tuition fees and cost of living).
Character Certificate.
Health Insurance.
These are general requirements. Students are advised to go to official website of Spanish embassy to check the Spain student visa requirements for Pakistani citizens.
ACCOMMODATION IN SPAIN 
In Spain you have different residence options. Every residence option has its own cost and benefits. You can choose one of the following residence option according to your ease.
DORM HOUSING
Almost every college and university of Spain offers students on campus residence. It is called dorm housing. It is also called hostel and it is most economical way of living. These dorm houses are situated very near to campus. They are very neat and clean dorms. The room in these dorm houses are available with attach bathroom and with common kitchen, living room and dining room.
PRIVATE OR SHARED FLAT / APARTMENT IN SPAIN
Students who can't find a place in dorm housing can rent their own apartment or flat. Living in private apartment is expensive in big cities like Madrid or Barcelona, but it is good for those people who want to keep their privacy. But DMI StudyAbroad will suggest you that if you can't find the place in dorm housing then you should rent a flat/apartment in sharing with other students. Living with sharing can save your lots of valuable money. You can save a major portion of rent by this living style. And you can cook your own food at your flat's kitchen by sharing with other students. This way of eating is way too economical than dining out at a restaurant, canteen, hotel or food points. Don't spend more money on living, spend it on your study.
LIVE AS PAYING GUEST IN SPAIN WITH LOCAL FAMILY
The concept of living is paying guest in Spain is very good. Spanish people are very loving, caring, kind and open hearted. They welcome foreigners with wide arms. They are good hosts. If you choose to live with some local family then you can take lots of advantages from them. You can study Spain and Spanish culture, traditions, language and way of living closely. Living with local family also save your precious time. Local families provide you a furnished room, food, laundry and of course a home far from your home. So you don't need to spend your time in cooking and washing your clothes. You can use this saved time in studies and earn good grades.
PART TIME JOBS IN SPAIN
It is possible for Pakistani / non-EU students to work part time job in Spain, but it is a bit difficult. Part time jobs in Spain for international students are very difficult. You are not allowed to work on your student visa. If you want to work with study then you need to apply for work permit. It is not an easy task. You will be required different documents for a work permit. And if you get a work permit then there is huge competition in the labor market of Spain. Jobs are not easily available in Spain for foreigner students. The employer and companies of Spain prefer local employee than foreigner employees. Because local employees understand language, customer behavior, mood and streets of a city. And Spain is highly educated country, there are lots of professionals and experts in all fields available in Spain. Students find very low jobs in industries and other places. Wage rates in Spain are also not high. In fact, Spain is third lowest wages giving country in Europe.  So if you are going to Spain with the intentions of doing then keep it in mind that it would not be an easy task.If you want Further assistance contact DMI Study Abroad.